Attention Authors, Speakers, Marketers, and Entrepreneurs…
"Who Else Wants To Create Massive
Passive And Residual Income
With Simple Digital Information Products?"
[Digital Information Products Are A Billion Dollar Business Online…Isn't It Finally Time For You To Get  Your Piece Of This Pie While Also Helping Others With Your Knowledge And Information?]
There Has To Be A Simpler Way…There Is – And I Can Teach It To You!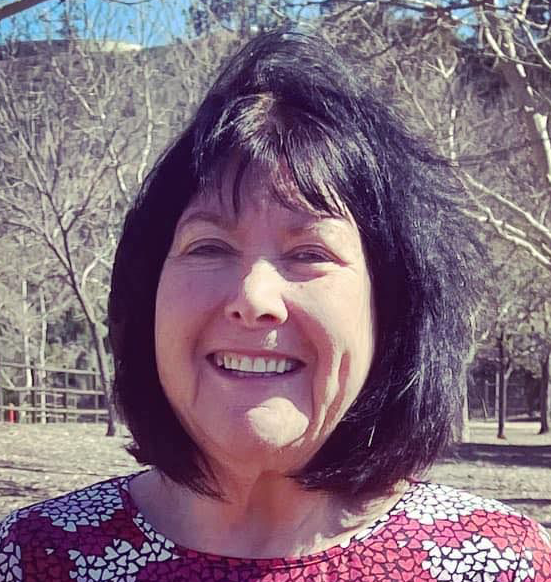 I'm Connie Ragen Green and I have been working exclusively online since 2006. When I first encountered the world of online marketing back in the early fall of 2005, I was enthralled with the idea of "making money while I slept". I soon discovered that this was hard work and set about to learn as much as I could during my every waking hour. And one part of being an online entrepreneur was glaringly obvious to me immediately…I was going to have to learn how to quickly and easily create simple information products on topics of interest to people all over the world in order to build a profitable online business and gain both credibility and visibility.
Now I am able to earn income not only while I sleep, but also while I travel, play, spend time with family and friends, and more. This is all thanks to the information products I have created quickly and easily over this past decade as an online entrepreneur. Now I have refined and streamlined this process so that you can do this as well. In fact, those who know of me on the internet have referred to me as someone who keeps it all simple and I take that as a compliment.
Now I want to teach you how to create simple and profitable information products, quickly and easily…
Introducing: Really Simple Info Products…



A 4 Module Workshop Training
to Turn You into an Information Product Creator and Marketer…For 2022 And Beyond
Really Simple Info Products Will Teach You:
How To Create High Quality, Digital Information Products On A Variety Of Topics To Build Your Online Business, While Increasing Your Authority, Visibility, And Credibility Exponentially!
Everything You Need To Create Profitable Information Products…
In This Live Online Workshop Course I will take you step by step through the process of information product research, product creation, and marketing your information product. You'll learn:
How to Create Simple Information Products Quickly So That You Can Build Up Your Inventory in No Time At All

How to Decide Which Types of Info Products are Most Relevant for Your Niche
Why ANYONE Can Create and Earn Income From Information Products

When to Start Bringing in Affiliates to Help You Sell More Information Products
Why Adding Details on Affiliate Products Will Increase Your Income Exponentially
How to Create Information Products in Several Mediums Simultaneously

Why Your Digital Product May Be Perfect As An Online Training Course
When to Repurpose Your Digital Info Products and When to Leave Them "As Is"

Why Marketing Your Information Products is Crucial – and How to Make It Fun!

When It's Acceptable to Use PLR (Private Label Rights) and Resell Content for Products

Why the Quality of Your Products is the Most Important Piece of the Marketing Puzzle
Using SEO (Search Engine Optimization) in All of the Products You Create and Sell
Effective And Profitable Information Product Creation Doesn't Have To Devour All Of Your Time

In fact, I'll be teaching you a method that takes just a few hours to implement. If you are willing to follow my model and implement what I teach in this workshop, you'll be able to add one new information product to your business each month, and finally be able to do it even more quickly than that. We'll examine every type of product being sold, including:
Written Products – Digital PDF Downloads

Audio Products – Downloadable MP3s

Video Products – Streaming, Live, or Downloadable

Various Hybrid Combinations of Audio, Written, and Video

With My Training You Will Easily
Create Information Products to Grow Your Business
During the Four Modules of this Really Simple Info Product Marketing Workshop I'll Share…
How to know exactly what your prospects are looking to purchase right now

Why creating products quickly will always be more profitable in the long run

When to create a "newbie" product and when/if to delve deeper into the topic

How to get your prospects to tell you exactly what they want to purchase from you

How to drive massive, targeted traffic to any info product you create
This isn't a course on the theory of info product creation and marketing. Theory has its place, but this course – the Really Simple Info Products Workshop – is about the practical side of researching, creating, and marketing your own information products from home, or from wherever you happen to be in the world with an internet connection. Over the past fourteen years my business has carried on profitably from the beaches of southern California, internet cafes across Europe, remote areas of Asia, as well as from my home offices in both Santa Barbara and Santa Clarita, California. This is all thanks to the content I publish and syndicate on a daily basis, using the exact methods and strategies I have time tested since 2006. I'll teach you exactly how to do the same thing, in a way that suits your lifestyle and goals.
I have more years of formal education than I care to admit. In fact, I was something of a professional student well into my forties. Looking back I now understand that much of what I learned was theory, when what I truly needed was information on what was working at that time. Whether I was in graduate school working on an MBA, a law degree, or a Master's in Technology and Instructional Design, the professors dwelled on what "could" be effective more than on what was proven to work well in practice. My promise to you is that I will only cover and teach you what is still working effectively in 2018.
My Motto Is To "Keep It Simple"
Just as I do with my Online Marketing Incubator and Platinum Mastermind clients, my goal with this live workshop training is to keep it all simple for you. By this I mean that you will only be exposed to what you need and what is working for me and for other successful online marketers in the area of information product creation and marketing. My promise to you is to not waste any of your valuable and precious time with training that is not absolutely crucial to your success.
Instead of teaching you WHAT  to do to grow your online business with information products, I'll be teaching you HOW  to do it with the exact, step-by-step techniques and strategies that will have you creating your own info products faster than the speed of light and sound!
We'll Information Products In A Variety of Niches

These Niches Include…
Self Improvement/Personal Growth/Personal Development
DIY/Home Improvement
Time Management/Organization
Make Money Online/Real Estate/Investing

Relationship Goals (All Types of Relationships)

Hobbies/Activities
Home/Family/Pets
Online Entrepreneurship Through Product Creation

Online entrepreneurship is a worthy goal, and one that can only be accomplished by doing, not by continuing to learn more and more and not applying anything directly to what you are working to achieve. At the end of each of the Training Modules of the Really Simple Info Products Workshop you will have a Plan of Action to get your information products created and out to the world. No more hesitation, procrastination, or concern over how and what to do each day you are in front of your computer. And by applying what you learn you will then have different questions. This training builds upon what you already know as 1) someone who has purchased and consumed multiple information products over time, 2) what I will be teaching and sharing with you, and 3) what you find out for yourself as you take directed action each week.
If you stop to think about it, everything we do is info product related. Whether you are talking about eBooks, books on Kindle, training guides, information on any topic you can imagine, or help in solving both simple and complex problems, it's all about information products.
Because I've been doing this full time since 2006, I feel uniquely qualified to help you move forward in the right way. And your success as an online entrepreneur is my greatest reward!
You'll Develop a "Productivity Power Hour" to
Create Unlimited Information Products

This will be a hands-on workshop, and whether you are with us for the live sessions or watching the webinar replay at a later time you will actually start researching, creating, and marketing your own information products throughout each session.
So, just how productive and prolific have I been when it comes to creating my own info products as an effective and powerful part of my overall marketing plan? Well, since 2006 I have:
Created more than sixty-five information products

Collaborated with other online entrepreneurs to create products
Published more than a dozen bestselling books, which are also products
Sold thousands of products through social media sites, forums, and communities

Hosted over a hundred fifty podcasts where I'm always promoting
Recorded more than four thousand hours of teleseminars to sell
Written more than eleven thousand broadcast and autoresponder email messages
And this was all by refining my strategies to work less than five hours a week at
information product creation and marketing
Regularly I am asked whether or not the window of opportunity has already closed for new online marketers and entrepreneurs when it comes to creating and marketing information products to get noticed and become profitable. This is my take on that…
The Reality…
Creating and Marketing Information Products Will Grow Your Business Quickly.
The Problem…You believe that creating info products is a chore, and that you will never be able to come up with enough ideas and have the time to do what needs to be done. You feel like the technical part of setting up your information product will be difficult, expensive, and time consuming.
The Solution…My Really Simple Info Products Workshop will turn you into an effective Information Product Creator and Marketer. I'll teach you how to create information products that sell because they solve problems people are willing to pay for 24/7/365.
From Idea To Prosperity

During the Really Simple Info Products workshop you'll learn how to take one simple idea and expand upon it to create a series of information products on various niche topics. It all begins with a one sentence "Statement of Fact" on your niche topic that is then repurposed into:

Written (PDF) Information Products
Audio (MP3) Information Products
Video (Streaming and Downloadable) Information Products
Popular Information Products That Sell
Non-Fiction Books (Kindle and Paperback)
This is how online marketing works as well. When you learn the basics and put about a third of what you know into place, the rest of your business will come together with a few clicks of your mouse. I may be slightly oversimplifying here, but my motto to "Keep It Simple" truly is the path to great success for you as an online entrepreneur. And failing forward more than half of the time is okay. I'm living proof that you can regularly fail more than half of the time and still earn seven figures as an entrepreneur.
If You've Always Wanted To Earn Income Online, This Is Your Opportunity
Helping others is rewarding and satisfying, and I want you to have this experience as you build your business over the next thirty days. Imagine the feeling of being able to help people around the world with your information, guidance, and recommendations. They will be forever grateful to you as their trusted advisor. By making a name for yourself, becoming a trusted advisor in your niche (I'll help you to choose the perfect niche to get started with), recommending affiliate products and courses and then creating your own information products and courses you will change the direction of your life and financial future forever.
Not everything being taught online today will work for you, just as much of it didn't work for me back in the early years when I was getting started. I'll help you to sort out what makes sense so that you can move forward confidently. This is the "each one, teach one" philosophy that I love about the online marketing world.
I've been online since 2006, so it just makes sense that I've had more opportunities based on this longevity. I became a "super affiliate" with just a few hundred names on my list, count most other successful online marketers as friends and have them on speed dial, and have access to some of the most brilliant minds now working online. If you're just getting started, have no list or a list of fewer than a hundred names, it makes sense that you will need different tactics and strategies to rise to the level you want and need as an entrepreneur. And that is exactly why I feel uniquely qualified to take you by the hand and move you closer to where you want to be within the next month.
---
Really Simple Info Products Workshop Training Course

***Additional Live Sessions Upcoming
You Are Included in All Live Sessions for Two Full Years From Date of Registration***
---
Each Session is a Workshop Unto Itself,
Where the Goal Will Be for You to Create a New Piece of Content to Use In Your Business.
You'll Experience Immediate Gratification During This Process.
The Main Modules and Additional Bonus Sessions In The Really Simple Info Products Program Include…
Module 1 – Getting Started  And Researching Topics For Info Products

What is Information Product Creation and How Does it Fit With My Goals?
Why is it so important to create and Sell Info Products Regularly?
What if I get started with the process of product creation right away?
How do I set the wheels in motion for info product creation?
What type of information products does my target audience crave?
How can I create the maximum amount of products in the shortest amount of time?
How can I become "single-focused" on product creation and marketing?
What are the keywords for my niche so I can maximize my SEO potential?
Why Writing Your Sales Copy Before You Finish Your Product Makes More Sense
How Do I Research My Ideas to Know if they are Viable as Information Products?
Module 2 – Creating Simple Information Products

Why Written Products are Best to Begin With, and How to Do That Quickly
How to Create Hugely Successful Information Products using OPC (Other People's Content)
Keeping the Technology Simple…Very Simple!
Using Emotion Driven Storytelling in Your Info Products
How to Create Your Information Products at the Speed of Sound
Why Affiliate Marketing Goes Hand in Hand with Info Products
Turning Your Info Products Into Membership Sites
Module 3 – Marketing Your Information Products Successfully

How to Market Every Single Day Without Even Thinking About It!
The 3 Part Process of Creating, Publishing, and Marketing
How to Use Social Media to Promote Your Products Effectively
How to Drive Massive Traffic to Your Information Product Sites
Why Reading, Writing, and Talking About Your Niche is So Important
Why Your Sales Letter Makes Information Product Creation Easier
How to Create as Many Products as You Want in Three Hours a Week
Module 4 – BONUS MODULE  – Advanced Strategies for Info Products

My "One Thousand Dollars a Day With Info Products" Strategy and Plan
How to Become Well Known in Your Niche in the Next Thirty Days
Why Information Products are the Fastest Way to Create Real Income
How to Generate Targeted Traffic to Your Information Products
Why this will Become Second Nature to You in No Time At All
Advanced SEO (Search Engine Optimization) and Keyword Strategies
How to Get Successful Entrepreneurs to Joint Venture With You
SPECIAL BONUS  – Your First Info Product

This is a "Product Within a Product" from Master Product Creator Paul Counts
You Have Immediate Access to This Entire Program
Includes 15 Short Videos, Audio Files, and PDFs of All Training
SPECIAL BONUS  – You'll Be Included in My Newest Information Product!

I'm Creating the "3 Day eBiz" Course and You Will Be Included
You May Write or Record a Piece of This, Or I Will Include You As A Case Study
This Will Put You On The Map As An Information Product Creator
All Season One, Season Two, and Season Three Sessions Are Recorded and Waiting for You in Your Member's Area

---
BONUSES – To Be Completed Within One Year of Joining…



An opportunity to collaborate with someone in my Mentor program on your first or next info product.
An opportunity to have me send an email to my list through your affiliate link to help build your list.
A 30 minute "Laser Focused" call with me to discuss your next information product.
Recommendations for technical assistance and other outsourcers from my personal Rolodex.
---
Really Simple Info Products Will Change the Way You Earn Income Online Forever!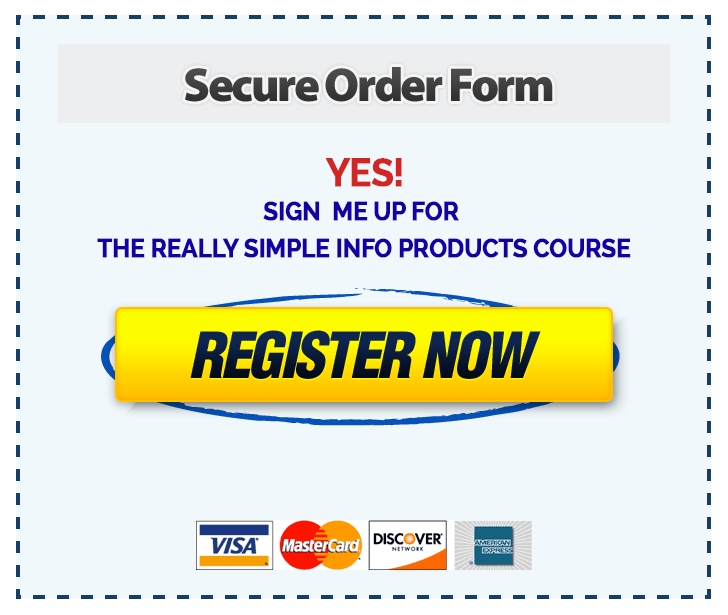 Have a Discount Coupon Code? Click to Register and Then Enter Code on the Next Page. Be Sure to Click to "Validate" Your Code.
P.S. "Season One", "Season Two", and "Season Three" sessions and bonuses are ready and waiting for you in your Member's Area, so you can get a jump start on your information products business right away.

Disclaimers and Legal Rights | Affiliate/Earnings Disclaimer | Terms of Use | Privacy Policy